Suntech has quickly become a world leader in the design and manufacture of solar panels. The founder of Suntech, Dr Shi Zhengrong, was a researcher at a university in Sydney when he first started following his dream in renewable power.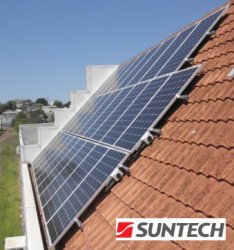 Unable to find backers for his dreams in Australia, he returned to his homeland of China where his dreams of providing green power to the world have come to fruition. Backed by a 25 year warranty, Suntech solar panels are a dependable choice for your solar power project. For a custom quotation using Suntech solar panels, please leave your contact details by clicking
here.
The benefits of Suntech solar panels
World's No.1 manufacturer of crystalline silicon photovoltaic solar panels
Unrivaled manufacturing capacity & world class technology
Rigorous quality control meeting the highest international standards
Guaranteed positive power tolerances on all solar panels ensures power output reliability
Solar panels certified to withstand extreme wind loads
Self clean effect-anti reflective, hydrophobic layer improves light absorption and reduces surface dust
Excellent performance even on cloudy days
Industry leading warranties

View Suntech Solar panels data sheet
View Suntech solar panels warranty
Visit Suntech Solar online
Click here for a FREE, no obligation quotation for Suntech solar panels from your local solar power experts.